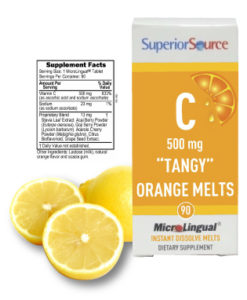 Vitamin C is an essential nutrient that cannot be produced by the body – it's found only in fruits and vegetables and is highest in fresh, uncooked foods.
Vitamin C must be replenished daily through dietary intake or supplementation. Vitamin C has several beneficial effects including developing and maintaining healthy skin and bones, forming collagen, and enhancing the absorption of iron from plant-based foods. Vitamin C also provides support to the body's immune system.
The best known sources of Vitamin C are citrus fruits that one can find at their local farmer's market or grocery store.  These include grapefruit, lemons, oranges, tangerines and limes. Other fruits with a large concentration of Vitamin C include strawberries and cantaloupes.
Vitamin C is amongst the most supplemented of all vitamins. Different national agencies around the world have set recommendations for the amount of Vitamin C we should take, from milligrams per day by the World Health Organization to 75-90 milligrams per day by the United States National Academy of Sciences.  The RDA (Recommended Dietary Allowance) set by the U.S. has a Tolerable Intake Level of 2,000 mg per day.
We have just developed our initial Vitamin C supplement. Our Vitamin C 500 mg Tangy Orange Melts utilizes sodium ascorbate, which is a buffered (non-acidic) form of C that does not contribute to gastric irritation. Although each MicroLingual® tablet contains very little sodium (only 1% of the Daily Requirement), it is helpful in offsetting the natural acidity of Vitamin C, creating a smoother, less acidic taste.
Sodium ascorbate is a fully reacted, truly buffered form of vitamin C. The sodium in this product differs from common table salt in that it is not combined with chloride like the "salt" most often associated with hypertension.
Additionally, Tangy Orange Melts are formulated with a proprietary blend including Acai Berry, Acerola Cherry and Citrus Bioflavonoids. NO sugar is added; our product is sweetened only with a little stevia. This is preferable to most "chewable" vitamin C products that typically are loaded with lots of sugar.
It's important to ingest the correct amount of Vitamin C every day, so if you're not getting enough through your diet, check out our Vitamin C 500 mg Tangy Orange Melts. Our MicroLingual® tablets dissolve in seconds—allowing for immediate absorption into the body.  The unique MicroLingual® delivery system eliminates the need for hard-to-swallow pills, messy liquids or sprays, and no water is needed for consumption – just pop it under your tongue and it will dissolve instantly.