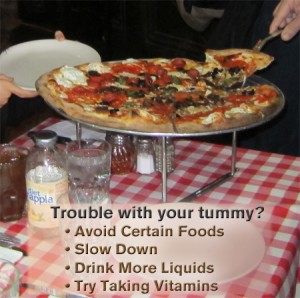 By Josephina Garcia, Lifestyle Blogger, CVC4Health.com
Do you have a little bit of digestive discomfort? That's no way to live your life and if you are like most, you tried some temporary solutions on the market and found it only made things worse for you later. Why not look into some more natural solutions?

Slow Down
If you slow down while you eat you can help reduce your risk of indigestion. Try eating smaller, more frequent meals rather than two or three larger meals when you are starving and are more likely to eat more quickly.
Drink More Liquids
It's possible that if you are suffering in your bowel area, replacing lost fluids can ease the tension down there. We have all heard the advice "Drink eight 8-ounce glasses of water a day," but how many of us follow it?
Try Vitamins
Okay, so you are like the rest of the population and a little too busy to make sure you eat all your vegetables in the copious amounts required, but that's what vitamins are for! For starters, if your body does not produce enough B12, antibodies can attack the stomach lining. Vitamin B12 has been shown to assist in the proper digestion and absorption of foods, which will result in less discomfort. And as an alternative to "swallowing" pills, try MicroLinguals® that go to work fast, as they are quickly absorbed directly into the body under the tongue. By swallowing supplements, as much as 50% of the potency is lost in the high acid environment of the stomach.
Avoid Certain Foods
Some things in our diet can contribute to indigestion such as dairy products, high-fat foods, high-fiber foods, and sugary foods. That's not to say you should cut them out altogether, but for those of us that suffer, it's certainly worth reducing.
Maybe You Already Knew All This?
It's not unlikely you knew you were supposed to be drinking more water, or avoiding sugary foods, but maybe you haven't tried all of these natural remedies in concert? Make the effort and you might find yourself finally spending a day without running to the cupboard for a temporary relief medicine. Give these a try and see if your body thanks you for treating it with respect.