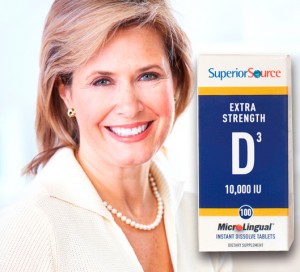 Why Vitamin D Is Essential for Good Health
Discovered in the early 1900's, Vitamin D is one of the essential vitamins for good health. While our skin makes Vitamin D by absorbing ultraviolet rays from sunlight, very few foods provide Vitamin D. Among the best sources are the flesh of fatty fish such as salmon, tuna and mackerel, and small amounts are found in beef, liver, cheese, egg yolks and some mushrooms.  Vitamin D3, which is available in limited amounts from foods,  is used by the body for regulation of calcium, phosphate and magnesium absorption and plays a role in cell differentiation, immunity and insulin secretion.
While many people meet at least some of their Vitamin D needs through exposure to sunlight, the Office of Dietary Supplements says Vitamin D3 is a necessary nutrient that many individuals do not get enough of on a regular basis.
Vitamin D is important because:
It helps support a health immune system
Helps support muscle strength
Builds and maintains strong bones by enhancing calcium absorption
Now that we're in the middle of an incredibly hot summer, and while too much sun exposure may be hazardous to your health, getting at least 10 minutes of sunshine per day before putting on sunscreen is important in getting a proper amount of Vitamin D.  Those people with darker skin can usually wait up to 20 minutes before applying sunscreen.
You may be at risk of Vitamin D deficiency if:
You don't allow yourself outside at all without sunscreen
Do not spend any time outdoors
Are overweight or obese
Live in a region with a long winter or lots of air pollution
Why Supplement!
While you should always talk with your physician first, and your doctor can give you a simple blood test to determine your Vitamin D level, taking a supplement may be an excellent way to obtain your necessary dose of daily Vitamin D3. As an example, it may take up to 10-20 glasses of milk or 10 ounces of salmon per day to obtain 1000 IU of Vitamin D3, while one Superior Source MicroLingual® tablet taken under the tongue will give you the needed amount of Vitamin D3 daily, and our Vitamin D3 is available in six different products.
Be diligent about your health…a Vitamin D supplement may be one way to help stay healthy, maintain a strong immune system and strong bones.